i Giovedì del Design n.233
Good Design is good business

Ospite: Paolo Lorini

ingresso gratuito per gli associati · free entrance for members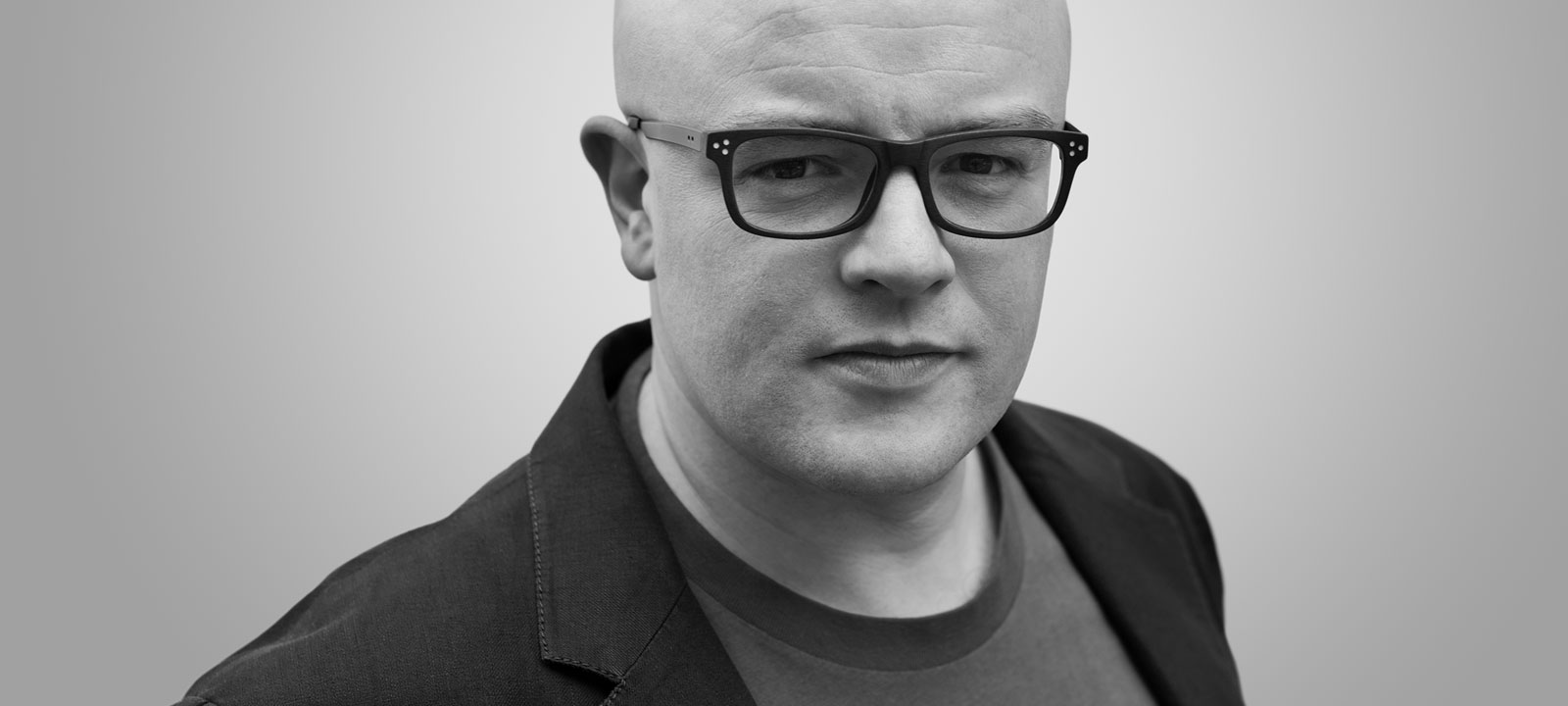 Quando nel 1973 Thomas Watson Jr., allora CEO di IBM, dichiarava alla Wharton School che "buon design è buon business" aveva già ben chiaro che il design sarebbe diventato il vantaggio competitivo fondamentale per creare nuovo business.
Oltre 40 anni dopo, nel 2014, Tim Brown, CEO di IDEO, ha indicato il Business Designer come una delle cinque nuove carriere nel design per il ventunesimo secolo: "Nelle innovazioni davvero dirompenti, vanno considerati tutti gli aspetti del business."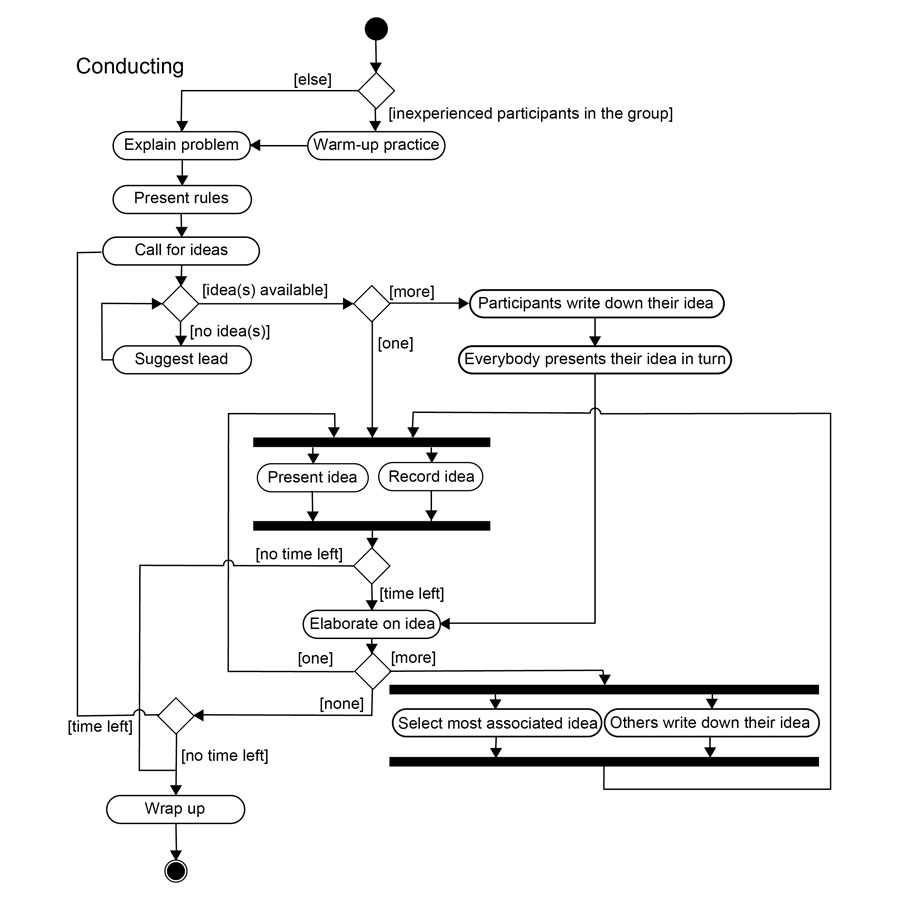 (The Brainstorming process - Alex F. Osborn, "Your Creative Power", 1948)
en.wikipedia.org/wiki/Brainstorming

Paolo Lorini lavora con designer, società di consulenza e aziende per aiutarli a creare valore concreto e fare la differenza attraverso brand, prodotti e servizi innovativi in un mercato sempre più ricco di scelte. Nel corso della serata illustrerà diversi casi studio spiegando con chiarezza i processi messi in atto e gli strumenti applicati in modo che il pubblico li possa fare propri.
Un'opportunità per i designer e gli imprenditori orientati al futuro.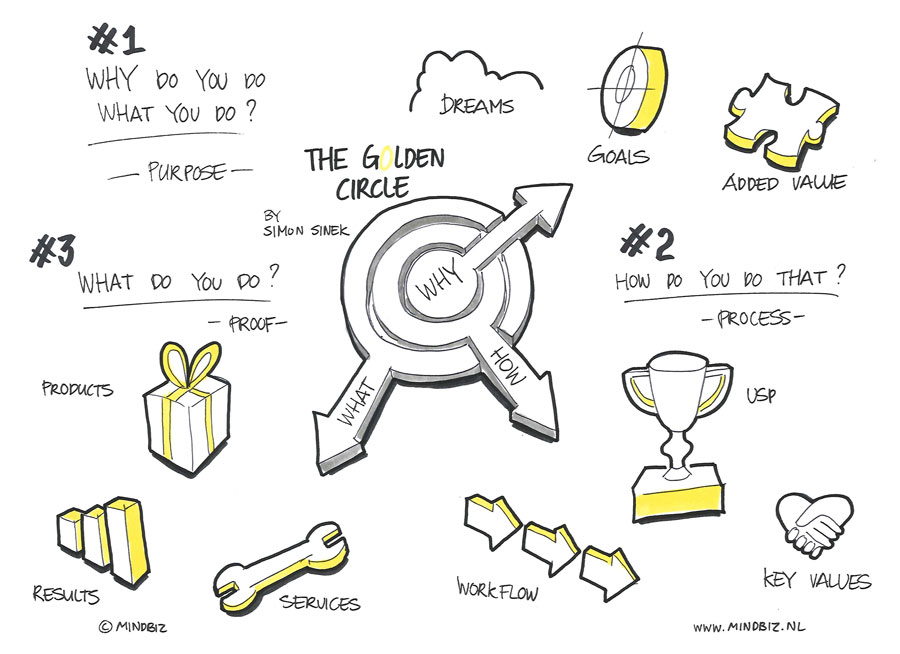 (The Golden Circle - Simon Sinek, "Start with Why", 2011)
www.startwithwhy.com

When in 1973 Thomas Watson Jr., then IBM CEO, stated at Wharton School that "good design is good business" it was clear to him that design would have become the fundamental competitive advantage to create new business.
More than 40 years later, in 2014, Tim Brown, IDEO CEO, suggested the Business Designer as one of the five new design careers for the 21st Century: "In truly disruptive innovations, all aspects of the business are up for grabs."
Paolo Lorini works together with designers, consultancies and companies to help them create tangible value and make the difference through innovative brands, products and services in an increasingly choice-rich market. During the talk he will present several case studies clearly explaining the processes put to use and the tools applied so that the audience could take them away.
An opportunity for future oriented designers and entrepreneurs.

Referenze/References
www-03.ibm.com/ibm/history/ibm100/us/en/icons/gooddesign
designthinking.ideo.com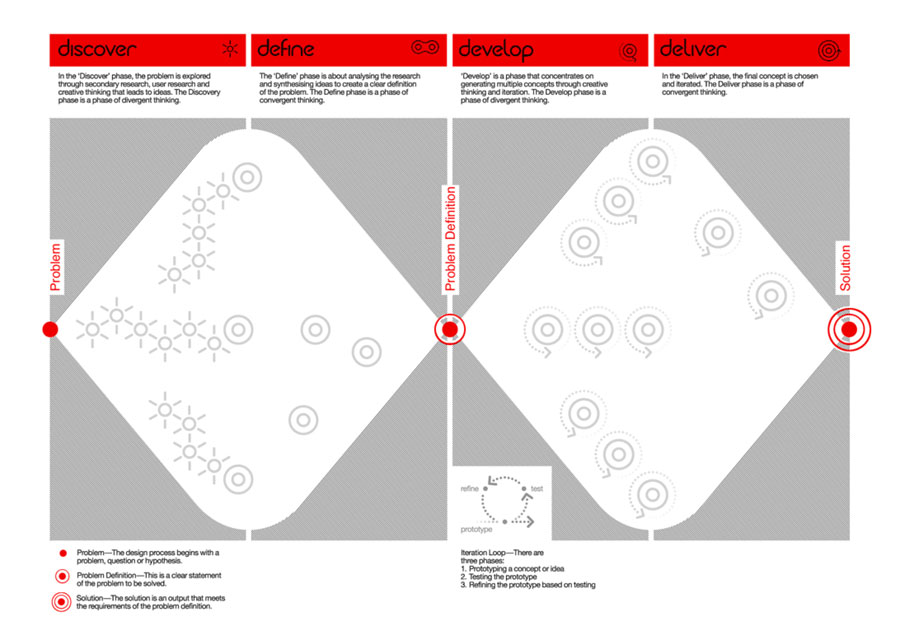 (The Double Diamond design process - Design Council, "A study of the design process", 2005)
www.designcouncil.org.uk/sites/default/files/asset/document/ElevenLessons_Design_Council.pdf

Paolo Lorini è consulente e advisor indipendente in design strategy, management, communication. Lavora come mediatore culturale tra il mondo del business e quello del design.
La sua attività si concentra sullo strutturare, coordinare e comunicare progetti di design, branding e innovazione che coinvolgono la sua rete globale di designer, businessman e media nella creazione di valore per aziende, organizzazioni e istituzioni.
Riveste ruoli di strategic, client e project manager nonché di consulente per la strategia d'identità per studi di design, società di consulenza e imprese. È project leader, lecturer e mentor per diversi Corsi di Master in Domus Academy Milano e docente di riferimento per IED Design Milano.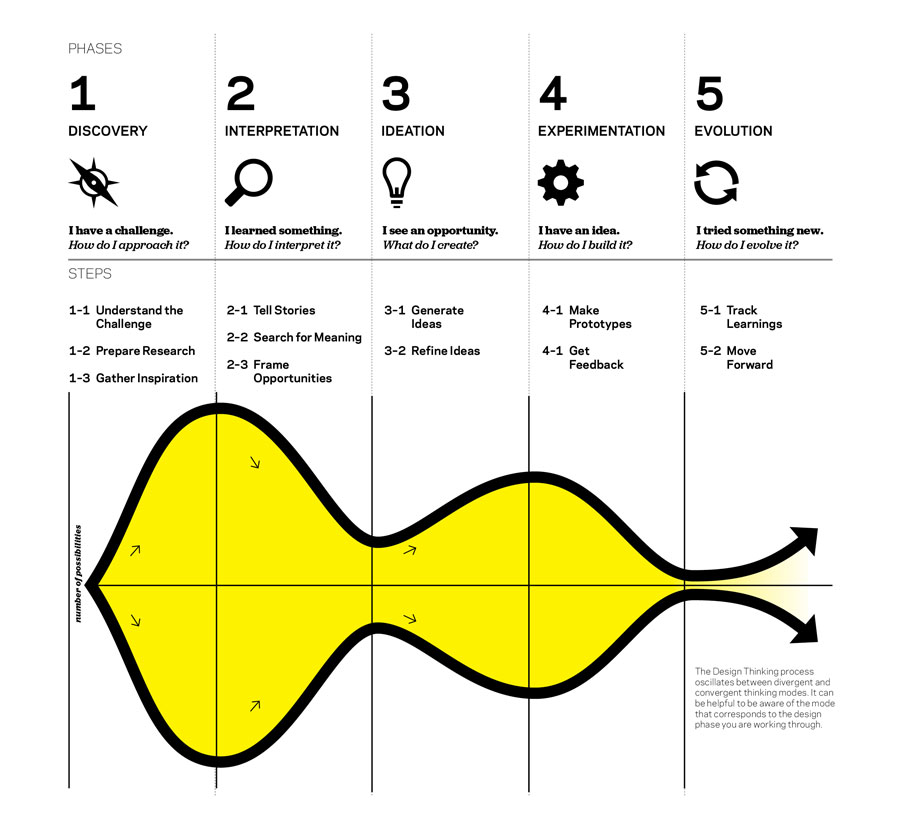 (The IDEO Design Thinking process - IDEO, "Design Thinking for Educators", 2nd edition, 2012)
www.designthinkingforeducators.com

Nel 2014 ha pubblicato il suo primo e-book gratuito DESIGN MATTERS, uno strumento di narrazione sul design che presenta più di 100 protagonisti, movimenti, eventi, scuole in un formato pratico e compatto.
Parla di design, branding, tecnologia e imprenditorialità in conferenze, seminari e workshop in Italia e all'estero.
Nel 2011 Paolo ha lasciato Samsung Design Milano, dopo avervi lavorato per sei anni come Senior Design Researcher e poi Design Manager. In questo ruolo era responsabile di progetti di ricerca e strategia per tutte le categorie di prodotto, in relazione con gli altri cinque Design Center internazionali e con il Corporate Design Center di Seoul.
Laureatosi nel 2000 in Disegno Industriale al Politecnico di Milano, ha lavorato con Clino Castelli in Castelli Design su progetti di design, metadesign e strategic planning per clienti Italiani ed internazionali.

www.paololorini.com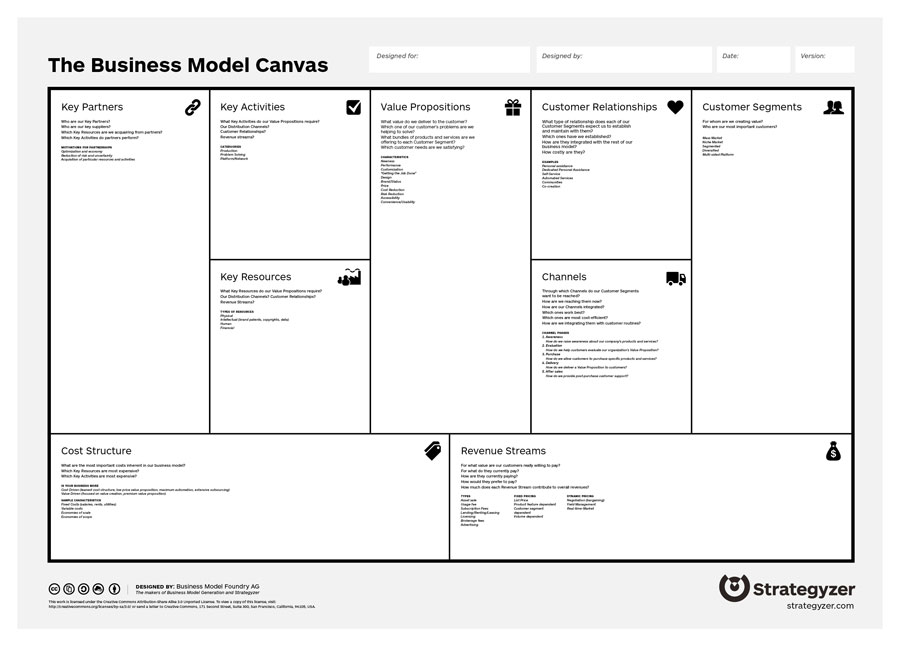 (The Business Model Canvas - Alexander Osterwalder et al., "Business Model Generation", 2010)
www.strategyzer.com

Paolo Lorini is independent consultant and advisor in design strategy, management, communication.
He works as a cultural mediator between the two domains of business and design.
His activity is focused on structuring, coordinating and delivering design, branding and innovation projects that involve his global network of designers, businessmen, media to create value for companies, organizations, institutions.
He plays roles of strategic, client and project manager as well as of identity strategy consultant for design studios, consultancies and firms. He is project leader, lecturer and mentor for several Master Courses at Domus Academy Milan and referring professor for IED Design Milan.
In 2014 he published his first free e-book DESIGN MATTERS, a design storytelling tool presenting more than 100 design protagonists, movements, events, schools in a compact and effective format.
He is invited speaker on design, branding, technology and entrepreneurship at lectures, seminars and workshops in Italy and abroad.
In 2011 Paolo left Samsung Design Milan, after working six years as Senior Design Researcher and then Design Manager. In this role he was in charge of research and strategy projects for all product categories, in cooperation with the other five international Design Centers and the Corporate Design Center in Seoul.
An Industrial Design graduate of Politecnico di Milano in 2000, his first job was with Clino Castelli at Castelli Design working on design, metadesign and strategic planning projects for Italian and international clients.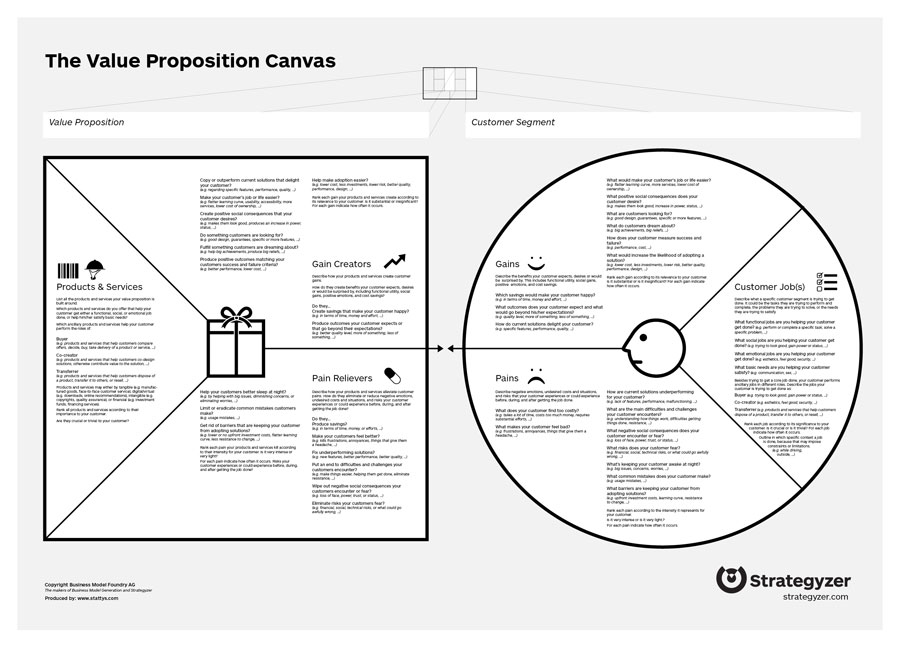 (The Value Proposition Canvas - Alexander Osterwalder et al., "Value Proposition Design", 2014)
www.strategyzer.com